LCSD Hong Kong Regional Netball 14's Academy 2021
U14 Wrap Up Tournament – 22nd May 2021
The Regional U14 Netball Academy Programme has successfully finished with the wrap up tournament on 22nd May. All the U14 players are divided into 4 teams, each team has additional two U16 academy members from previous squad. All the teams have played in a round-robin game and a playoff. The final rankings of the teams are Team B (1), Team D (2), Team A (3), and Team C (4). Congratulations to the following players winning the "Most Team Player" on the Tournament Day.
Last but not least, huge thank you to the coaching team, Angela Chan as the head coach, Heidi Sun, Doris Wong and Koey Lo as the assistant coaches, and Ada Yiu as the tournament coach, for all the hard work and efforts you have put in coaching the U14 academy girls.

2021 Regional U14 Academy – Wrap Up Tournament

Squad Announcement – 22nd April 2021
Two trials were completed on 10th and 17th April. This year we have more than 60 players trialing for the academy. Congratulations to the following 28 players selected into the Regional U14 Academy 2021. For detailed training schedule and structure, please click onto the red button above.
Please email [email protected] if you have any questions about the programme.
Training Update – 23rd March 2021
Pre-trial training will be resumed this week on 27th March 2021. Please check the grouping and training timeslot carefully from the Green Button above.
Pre-Trial Training Arrangement
All registered players are divided into three groups. Each group will have three pre-trial training timeslots allocated before the trial. Please check your grouping carefully and attend the specific training timeslots which are assigned to your group. It is VERY IMPORTANT for you to attend the correct training timeslot with your group!
All players will be required to wear mask during training. There may be times players can take off the mask if they are doing small group drills with sufficient spaces. But please prepare spare masks in case the original mask is too sweaty after training.
Please do allow sufficient traveling time to get to the Shun Lee Tsuen Sports Centre if this is your first time going to the centre. You can find the direction HERE in our website.
No spectator is allowed at trial/training. Be prepared to train, straight in and straight out. Bring your own water bottle and get it filled before coming (the water fountain is closed in the centre). DO NOT COME IF YOU FEEL UNWELL OR SICK!
HKNA COVID-19 Policy
HKNA's COVID-19 Policy will apply to the Regional U14 Academy except where amended by message. As per the policy, HKNA reserves the right to cancel or postpone trainings to protect participant safety even if there are no Government or LCSD regulations requiring cancellation or postponement. Such a decision would be triggered, for example, by an exponential increase in cases and particularly in untraceable cases.
According to the policy: If a Participant has had close contact with a confirmed or suspected** case at their place of work or residence, they should not attend HKNA games for 14 days from the date of contact, or the suspected case is cleared by the HK Centre for Health Protection, or until the Participant can provide a negative test to HKNA, whichever is earliest.
Please email [email protected] if you have any questions about the programme.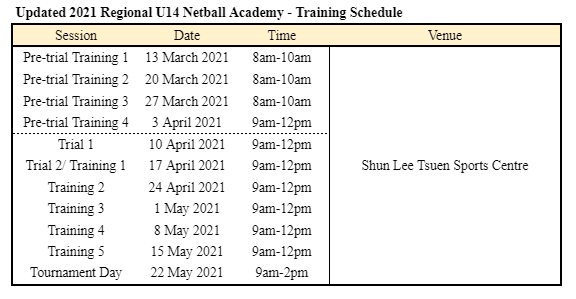 The Regional Netball Academy (RNA) is suitable for netballers who want to further develop their skills and take the next step in their netball pathway. The training sessions will be run by qualified & experienced coaches. These squads are set up to identify young talented netballers who could be future HK National 16's academy and Youth (U21's) representative to compete in overseas tours and international competitions.
Deadline of Registration: (Friday) 5 February 2021 – 6PM
*The training is subject to change depending on the government restriction, the LCSD regulation and the actual COVID-19 development/situation by that time.